Irish Music Tasters
Waltons New School of Music
---
Are you visiting Ireland?
Would you like to play real Irish music rather than just listen to it?
Would you like to bring something back that is genuinely Irish?
---
Designed for absolute beginners of all ages and running since 1999, our Irish Music Tasters for individuals and groups are brief immersions in the world of Irish traditional music and have introduced hundreds of people from all over the world to its beautiful melodies and infectious rhythms. We offer Bodhrán Tasters, Tin Whistle Tasters, Combined Bodhrán and Tin Whistle Tasters, and a one-hour Introduction to Irish Music.
Whether you are visiting Dublin for a week, a weekend or even a day, why not take one of our Irish Music Tasters and leave Ireland with more than memories?
I really enjoyed my [Irish Music Taster], and it was a great experience for me. Waltons New School of Music is a very good place to learn Irish traditional music, especially for foreign students like me.
It was inspiring and a great way to learn about Irish music. [Irish Music Tasters]
An excellent experience that added to an overall enjoyable Irish holiday.
A great quick introduction to the beautiful culture of Irish music and song. [Irish Music Tasters]
A fabulous instructor! So knowledgeable about the tin whistle as well as the history of Ireland and its music and instruments. He also gave great recommendations of places to visit and sites to see which was very appreciated. I'm happy to have a new friend in Ireland.
Everyone is back home and more-or-less recovered from the short nights and travel, and can look back with a lot of pleasure on the fine weekend in Dublin. I would like to thank you for all your work in engaging the wonderful teachers, finding the classroom space, and having it all work out in timing and pricing. Thanks also for passing on my many requests to the teachers! I know it took quite some time, but it really helped make it the right kind of course for my pupils. I'm very grateful that the school and the teachers were willing to be flexible! I would also like to thank your colleagues...for the warm welcome, and for making us feel at home in the school. Huge thanks too to all the teachers: John, Eamonn, Harry and Aoife. They were fabulous! The course was a great success for my students, and I would definitely be happy to work with Waltons New School of Music again. [Irish Music Tasters]
Thank you very much for the very informative, exciting and interesting three days for our students at your school! They really enjoyed playing the tin whistle and bodhrán and singing traditional Irish songs. Your teachers did a really good job, and the students learned a lot in a very short time. A fascinating new experience!
The teachers were extremely talented, engaging and knowledgeable. I loved the demonstrations of various instruments (especially the pipes).
No pressure, lots of fun, easy and welcoming.
I'm back home from Dublin. It was a most pleasant stay, but the high point of it was my bodhrán lesson. I have this personality disorder that manifests itself in collecting instruments and trying to learn them, mostly on my own. Being able to take even just one lesson with a real expert (and a most able teacher), is invaluable. Hope I'll be back soon! [Irish Music Tasters]
I loved our bodhrán lesson with Éamonn – patient, witty, amicable and an expert musician – especially when he taught me a rhythm and then he accompanied me on his flute. Great fun! Would absolutely recommend this top notch experience! [Irish Music Tasters]
Our group is made up of students studying to become music teachers in the public schools of Denmark, and we attended your Introduction to Irish Music and Tin Whistle Taster. I must say that both of them were perfectly planned. The Introduction was delivered with humour and a smile, making a sometimes heavy subject easy to understand, and the Tin Whistle Taster was great, focusing on different methods of teaching beginners to play. We had a great time and experience at Waltons New School of Music, and I would highly recommend that music students at our school do the same if they choose Dublin as their destination for future study trips.
You really develop an appreciation of the Irish tradition and culture. The teacher was great. [Irish Music Tasters]
Fantastic way to spend an hour learning something new. Relaxed atmosphere. Informal but very informative. Easy to book and very friendly. [Irish Music Tasters]
Studying with Kevin and John was the highlight of my musical experience in Dublin. Both are master musicians and exceptional teachers. Many thanks. Shalom, shalom. [Irish Music Tasters]
The teacher was very enthusiastic. His love for the music shone through! [Irish Music Tasters]
Great introduction to Irish music and the rhythmic patterns behind it. [Irish Music Tasters]
For the absolute best time in Dublin, take an Irish Music Taster. The staff is excellent and your time is well spent.
Everyone was so friendly and knew what they were talking about. The lesson was tons of fun and very interesting – plus you get to beat on things! [Irish Music Tasters]
The lesson was very good and the teacher was great, encouraging and relaxed. [Irish Music Tasters]
A pleasure to spend an hour doing something different with a genuinely passionate musician and totally nice bloke. [Irish Music Tasters]
Where do they happen?
Irish Music Tasters take place at Waltons New School of Music, which is located in Dublin city centre, five minutes' walk from Trinity College and just around the corner from Dublin Castle.
See our Location page for more details.
When do they happen?
Tasters can be arranged at your convenience, subject to teacher availability.
What ages are they suitable for?
Because our Irish Music Tasters take place in a music school rather than a pub, they are suitable for all ages. Families are welcome to take one together!
How do I book?
Bookings should be made at least 24 hours in advance, 48 hours in advance if you would like to include instruments. Please complete an Irish Music Taster Booking Form to do so.
Booking an Irish Music Taster for one or more people requires a non-refundable €25 deposit, with the balance payable in cash or by credit/debit card before the Taster commences.
---
What other Irish instruments can I learn?
One- or two-hour Intensive Lessons (see Tuition Options – Intensive Lessons), as well as short courses of lessons, can also be arranged for the following instruments:
Banjo (4-String/Tenor or 5-String/Bluegrass)
Button Accordion
Concertina
Fiddle (Irish or Bluegrass)
Guitar
Harmonica (Diatonic or Chromatic)
Irish (Wooden) Flute
Irish Harp
Low Whistle
Mandolin
Singing (Irish Songs or Sean-nós)
Uilleann Pipes
See Traditional • Folk • World Instruments for more information.
Is longer-term tuition available?
Yes. The New School has a strong Irish traditional and folk instrument programme, and in addition to longer-term private lessons in all of the above instruments, and for all skill levels (beginner to advanced), we also offer the following group courses for absolute beginners:
We also offer an excellent course in Irish traditional Guitar for intermediate students:
My question isn't listed here. Who can I contact?
Please use our Contact Us form to get in touch, and we'll be happy to answer any questions you may have.
---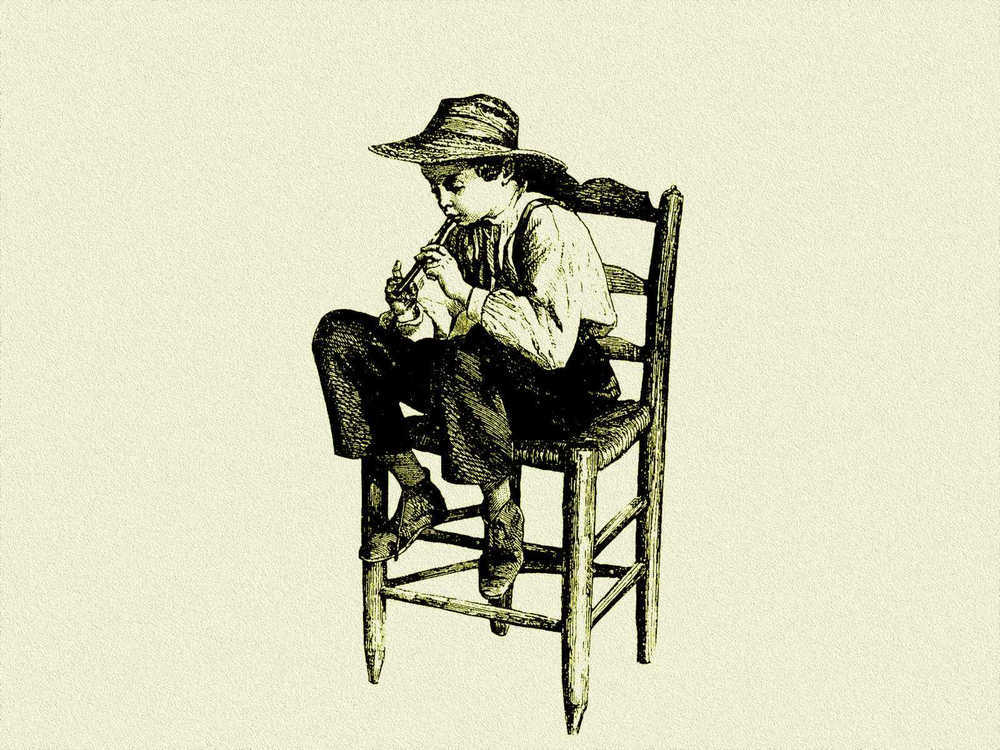 19th-century engraving
of a boy playing the tin whistle.