String Instruments Tuition
at Waltons New School of Music
'An abundance of technique should not be a means to an end but a way to allow the heart to expand freely.'
– Pablo Casals
'A table, a chair, a bowl of fruit and a violin; what else does a man need to be happy?'
– Albert Einstein
The tuition was excellent. I learned a lot in a positive and pleasant way. [Introducing Irish Fiddle]
I really enjoyed this course [Introducing Irish Fiddle]. In such a short space of time I feel I have learned loads, and I look forward to improving.
My daughter loved learning violin at the school, and the group environment has also helped her to develop her social skills. A stimulating and enjoyable course! [Introducing Violin for Children]
I was over 50 and wanted to learn to play the fiddle, so I signed up for my first set of classes (10). I nervously attended my first class [Introducing Irish Fiddle] in Waltons, and I needn't have worried. The admin staff were so welcoming and light hearted and made me feel at ease. My class teacher has a very natural way of teaching; she is so patient and encouraging and there is a relaxed atmosphere in the class. I will be starting my sixth set of sessions with Waltons at Easter.
Introducing Fiddle was a really enjoyable course. All of the tunes I learned were broken down and made easy to learn and pick up. The teacher was extremely helpful, accommodating and approachable, and this gave me the confidence in going on to learn the fiddle.
This course [Introducing Violin for Adults] is great! My class has a relaxed, non-competitive atmosphere that is a pleasure to be part of, and I've learned loads.
This course [Introducing Violin for Adults] has opened up new horizons for me. I never thought I could learn a musical instrument, and so far Waltons New School of Music has allowed me to dream that it is possible, no matter what age I am.
All the fundamentals were covered, which gave us the best foundations for learning how to play the violin correctly. Terrific teacher, and the atmosphere of the class [Introducing Violin for Adults] was always great and positive. I had fun at every class. Thank you.
I'm finding [Introducing Violin for Adults] very enjoyable and not at all intimidating. The teacher makes us feel at ease as we learn the violin.
I really enjoyed my [violin] lessons. I had a teacher who really understood how adults learn, and she gave me confidence.
Truly amazed at how far I have gone in such a short period. At Christmas I couldn't even hold a fiddle, but I was playing tunes by St. Patrick's Day! [Introducing Irish Fiddle]
The [Introducing Violin for Adults] course gave me a great introduction to a difficult instrument in a friendly, fun environment. It was challenging but thoroughly enjoyable, which I think should be credited to the patience and helpfulness of the teacher.
My child benefited from individual attention from an excellent teacher in a small group. [Introducing Violin for Children]
The [Introducing Irish Fiddle] teacher was excellent, very encouraging and with endless patience.
I didn't expect to be able to play seven tunes after only ten weeks. [Introducing Irish Fiddle] was a fantastic introductory course that covered the basics perfectly....
Having just retired from work, I decided to have a go at learning the violin. I was apprehensive about the prospect, not having any experience of playing a musical instrument. However, all my concerns were unnecessary as I found the course [Introducing Violin for Adults] relaxing and my progress of learning the instrument quicker than anticipated.
Great fun, great teacher, great group and a great skill learned! [Introducing Irish Fiddle]
Aoife is a very patient teacher. She moves the [Introducing Irish Fiddle] class at just the right pace to push you forward, but she doesn't leave anyone behind.
I really enjoyed the [Introducing Irish Fiddle]  course and have signed up for the continuation group. I found the delivery of lessons very effective and benefited hugely from them.
My daughter has a wonderful violin teacher here. She certainly has the knowledge and expertise but most importantly she knows how to work with children and motivate them to stick with it. We'll be back.
I'm a mature student with limited time to play an instrument, and Waltons have been great.... I've had a very encouraging teacher, I'm so glad I took up violin, and I plan to continue. Thanks!
[A] very patient teacher, and I really enjoy her classes [Introducing Irish Fiddle]. She moves at a steady pace, neither too slow nor too fast, and uses a variety of teaching methods. It's amazing to see how much we have progressed in such a short time.
The [Introducing Irish Fiddle] course was great. The 10 weeks flew by, and I can't believe how much we learnt in that time.
My violin teacher completely accommodated my ambition to progress quickly in learning the instrument, starting from absolutely no experience.
Great location, friendly staff…excellent [double bass] teacher and good opening hours.
My son is very lucky to have found such a generous, committed and talented [double bass] tutor.
You are never too old to play an instrument. I have only had five [Introducing Irish Fiddle] classes and can now play three tunes to my satisfaction.
When I took music lessons as a child I hated the regimen of scales, etc. with no tunes. In ten weeks I can play five tunes that folks can recognise. [Introducing Irish Fiddle]
I had no music background but the teacher was very helpful and made it very enjoyable. I really enjoyed the [Introducing Violin for Adults] classes. Thanks!
My fiddle teacher is really helpful and encouraging. I always leave feeling more confident about my playing. Thanks!
I looked forward to the lesson every week. Marieclaire is an excellent teacher...always enthusiastic and encouraging. I'll definitely be recommending [Introducing Violin for Adults] to other people, and will be attending the next stage.
I have really enjoyed [Introducing Violin for Adults] at the school, especially the outstanding teaching skills, kindness and patience of the instructor. I have to say that choosing this course was a very good decision.
Fantastic progress combined with A child friendly and fun approach. [Introducing Violin for Children]
String Instruments Tuition FAQS
What is the 'string (or violin) family'?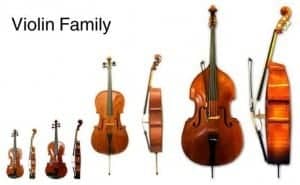 The string or violin family consists of four instruments that are played with a bow or plucked:
The violin is the highest pitched member of the family, which also includes the viola, cello and double bass. The violin has four strings, each tuned a 'fifth' apart: G, D, A and E (lowest to highest). Music for violin is written in the treble clef.
The viola is the second highest pitched member of the family. It has four strings tuned a fifth lower than the violin, to the notes C, G, D and A. Music for the viola is written in the alto clef and sometimes in the treble clef as well. Violas vary in size, although they are always larger and tuned lower than violins.
The cello (or violoncello) is also shaped liked a violin but is much larger. Supported by an end pin which is placed on the floor, the cello is placed between the knees of the musician and played with a large bow. Its four strings are tuned an octave lower than the viola's, to C, G, D and A. Music for the cello is written in the bass clef.
The double bass (also known as the string bass, bass viol, or contrabass) is the largest and lowest pitched string instrument of the family. It is usually played standing up and generally tuned in fourths – E, A, D, G – making it different from all other modern string instruments. Music for the double bass is also written in the bass clef.
What is the difference between a violin and a fiddle?
Actually, there isn't one. The words 'violin' and 'fiddle' are etymologically related, both derived from the Latin vitulari ('to rejoice') or Vitula, the Roman goddess of victory or jubilation. Although both words are used for the same instrument, the techniques used by traditional fiddlers are considerably different to those used by classical violinist, which are generally more standardised. A traditional fiddler might choose to hold his/her instrument like a classical player (tucked under the chin), but this is not essential as most traditional music can be played in the first position. Traditional players, therefore, might hold the fiddle against the upper arm, chest, shoulders or even the waist. Bowing styles and holds vary greatly in different regions or between individual players.
At what age should string instrument lessons begin?
For a child, between six and eight is a comfortable range, a bit earlier for girls than boys, as they usually mature more quickly. This is the age range of our Introducing Violin for Children group course. Occasionally younger children can do well, particularly with violin, and we have had a few four- or five-year-old students who have done quite well with their lessons.
Are there different size violins available for children?
Violins are generally available in the following sizes: 1/16, 1/8, 1/4, 1/2, 3/4 and 4/4 (full size). Children in their early teens are usually big enough to play a full size violin. Sizing is extremely important. Playing a too-big instrument is painful and an exercise in frustration that makes it virtually impossible for a student to develop good technique and tone. If your child seems to be 'between' sizes, go with the smaller size to ensure your child's success. Good advice is crucial for fitting the right size for the child, and they should be present when purchasing the instrument.
What should I consider in choosing an instrument?
String instruments have a greater price range than virtually any other musical instruments. You can still buy a decent starter violin, bow and case for under €100, while Stradivarius and Guarneri instruments are worth several million euro. The first question to ask is whether you want to buy a factory-made or a hand-made instrument. Factory-made violins are reasonably-priced and consistent in quality. Parents starting children on violin or fiddle should consider that quarter- or half-sized instruments will have to be exchanged for larger instruments as the child grows; for this reason, cheaper, factory-made violins are often the best choice. With hand-made instruments, quality (and price!) are often more subjective, and it is best to ask your teacher or an advanced player to try out an instrument before you decide to buy it.
Can an adult learn to play a string instrument?
Yes! We have taught string instruments to hundreds of adults, from beginner to advanced. Results won't come overnight, and instrumental study requires application and practice – but that's no reason not to start. And there is a great deal of pleasure and satisfaction to be had in learning a musical instrument. The New School also has two group courses specially designed for adult beginners, Introducing Violin for Adults and Introducing Irish Fiddle.
What else do I need besides an instrument and bow?
A good shoulder rest for violins and violas (Wolf are recommended)
Rosin (provides the bow hair with friction in order to produce a sound)
An electronic tuner or pitch pipe to help tune the instrument
A music stand
A spare set of strings
Method books/other printed materials (recommended by your teacher)
A 'lesson notebook' for homework assignments and teacher comments
What are your teaching methods?
Our teachers generally use a 'traditional' approach, which means they generally incorporate note-reading, musicianship, and technique (instrument-specific skills) into each lesson. Their teaching methods are not set in stone. We believe that each student learns best when approached as having unique strengths, weaknesses and learning styles, and each lesson is tailored to the individual student.
What's the point of lessons, when I can use a book or YouTube videos?
A music teacher can observe your technique and progress in real-time and give you immediate feedback, specifically tailored to your needs and goals. You will be reassured by getting reinforcement for things you do well and constructive advice for areas that need improvement. Questions and difficulties can be dealt with as they arise, so you do not develop bad habits that may be hard to correct later.
While there are many materials and aids available to help you 'teach yourself', determining where to begin and what path to follow is not so simple. A good teacher will evaluate your skill level and provide sound guidance to keep you on track and focused on topics most appropriate for your development and personal objectives.
Can you prepare me / my child for grade or practical examinations?
Lessons can certainly include preparation for grade examinations with such a range of exam boards. Our teachers can also prepare you for Junior Cert. Music and Leaving Cert. Music practical exams.
Since I'm left-handed, can I learn to play and have a violin fitted in the opposite way?
We do not recommend refitting an instrument in this way (in other words, with the G string to the right, and holding the bow with the left hand). The literature is not designed for this, and the problems of adjustment in reaching higher positions seem overwhelming when you consider what the configuration would have to be. In addition, ensemble playing requires consistent bowings, and even consistency with respect to fingerings for uniformity of phrasing. Many players would argue that it is actually an advantage to be left-handed because of the requirements of the left-hand technique, and certainly there is nothing to prevent a left-handed person from taking up the instrument.
How do I tune my / my child's instrument?
Learning to tune your violin, viola, cello or double bass is an essential skill to develop.
Violins, violas and cellos are tuned in 5ths, and their strings, from lowest to highest, are as follows (including links to online tuners):
Violin: G | D | A | E • Online Tuner
Viola: C | G | D | A • Online Tuner
Cello: C | G | D | A • Online Tuner
Viola strings are tuned a 5th below violin strings. That is, the first viola string is C, a 5th below the violin's first string (G). And cello strings are tuned a full octave below viola strings.
Unlike violins, violas and cellos, double basses are tuned in 4ths, and are generally tuned as follows (although other tunings are also used).
Double Bass: E | A | D | G • Online Tuner
The top string of the double bass (G) is the same pitch as the cello's second string.
Electronic tuners, which can be used to tune each string separately, are inexpensive and easy to use. There are also several tuner apps for smartphones available, some of which are free. Finally, there are online tuners (see below) that provide you with the pitch each string should have.
Strings can be tuned with both pegs and fine tuners (if you have them). As their name suggests, fine tuners are used for tuning the string if it is off-pitch by a small interval of no more than half a tone or so. When the string is out of tune by more than half a tone, then the pegs are used to tune the note initially, with the fine tuner used afterwards to make sure the note is exactly in tune.
When tuning any string instrument, you should always tune from below the note, up. This prevents string breakages and systematises the process of tuning, so you eventually become more familiar with the sound of a perfect, in-tune string. When a fine tuner has been wound right down to the end of the screw, you will need to loosen the fine tuner near to the end of the screw before carefully tightening the tuning peg. This way, you prevent the string from being over-tightened.
When you are tuning, play the note continuously with your bow and listen carefully to the string as it tightens towards the desired pitch. If the string sounds lower than the correct pitch, gently turn the fine tuner (or peg, if necessary) clockwise until it reaches the correct pitch. If the string sounds higher than the correct pitch, gently turn the tuner or peg anticlockwise.
It is advisable to start by tuning the highest string first and then work your way down. When you start to become more familiar with the sound of the notes of the different strings, you can try tuning the strings against each other. This is known as relative tuning.
What is the purpose of practicing scales?
For a complete beginner, scales help build finger dexterity by giving you something to play that you can work on without being slowed down by reading. They also teach you what notes are found in each key, which makes reading music go more smoothly as you'll cease having to read each note one at a time and start to see patterns within the key.
How can I develop good sight reading skills?
Sight reading is learned by doing, and it takes practice! Being a good sight reader requires a combination of two elements:
Learning as much music theory, music history and related subjects as possible.
Practical experience in sight reading. This is acquired by joining as many formal or informal groups as one can locate, and also regularly attending to new music in the home practice.
Four things to keep in mind:
At the beginning of every piece of music, there are three areas to examine initially: the clef, the key signature and the time signature.
There may also be a term (or terms)describing how the music should be played. In classical music these terms are usual Italian. For example: Andante ('walking' at a moderate pace), Largo (slow and dignified) and Presto (very fast). There may also be abbreviate terms under the music that describe how soft or loud it should be played: p (piano, soft), pp (pianissimo, very soft), f (forte, loud), ff (fortissimo, very loud).
One should also have some general idea about the style or period.
Glance through the piece if you have time and look at the form and chord structures. Determine, at a minimum, whether it is in a major or minor key, and note any development or recapitulation materials.