The Hot Sardines
Waltons World Masters Series
'The charismatic front-runners of vintage jazz play big halls as if they've just dropped in to a party.'
– The Guardian
---
Click on the tabs for information.
Performance
When Wednesday, 8 June 2016
Where National Concert Hall, Dublin, Main Auditorium
Presented by Waltons New School of Music
The Hot Sardines
Elizabeth Bougerol • Singer, Washboard
Evan 'Bibs' Palazzo • Piano, Bandleader
Evan 'Sugar' Crane • Bass
Alex Raderman • Drums
'Fast Eddy' Francisco • Tap, Ukulele
Mike Sailors • Cornet
Nick Myers • Saxophone
Jason Prover • Trumpet
---
'Unforgettably wild … consistently electrifying. A live music powerhouse.'
– PopMatters
'Their live show was simply phenomenal, crisp musicianship going hand in hand with immaculate and witty showmanship.'
– The Sunday Times
'This foot-stomping outfit captured the spirit, as well as the letter, of the music, handling the nearly 90-year-old tunes like living, breathing music rather than precious museum artefacts.'
– DownBeat
'They had won over the audience right from the start. The closing sequence had the crowd baying for more.'
– London Jazz News
'The Hot Sardines bring an innovative and sophisticated style to the history-defining jazz of the 1920, 30s and 40s. Their skill at making classic music current has earned them a broad audience, effortlessly reaching across genres and generations…'
– The Independent
'Their sound is unlike any other band. Picture wartime Paris by way of New Orleans, but here and now, with big brass and overlaid rhythms recalling Louis Armstrong and Django Reinhardt, funky Fats Waller stride piano, a lotta swooning Dixieland, that voice of Miz Elizabeth's – time out of mind, welcoming and impudent at once – and tap dancing on the bar.'
– New York Hot Jazz Festival
'To see the Sardines take the Guildhall by storm was proof, if you needed it, that this joyous band has hit on a winning combination of fleet-footed arrangements and sardonic humour…. Eager to win a place at the top table, jazz has worked hard to lose its sense of humour since Cab Calloway's day. The Sardines are restoring the balance.'
– The Times (London)
The Hot Sardines
It's a great American success story worthy of the cinema. A born-and-bred New York City actor meets a Parisian-born writer at an open jazz jam over a noodle shop in Manhattan, and from there The Hot Sardines are born. The brainchild of bandleader Evan 'Bibs' Palazzo and lead singer 'Miz Elizabeth' Bougerol, the Sardine sound fuses musical influences from New York, Paris and New Orleans from the Prohibition era through the Great Depression, World War II and beyond.
'Greats like Fats Waller, Louis Armstrong, Thelonious Monk, Django Reinhardt, Count Basie, Fred Astaire, Mamie Smith, Billie Holiday, the Andrews Sisters, Ray Charles and a full-on melting pot of musicians both iconic and obscure have influenced our style and song interpretation', says Miz Elizabeth, who helps fuel the Sardine mission to transform songs from another era into pop music for this century. Bibs shares that passion, and together they have managed the delicate balance of showcasing old songs – some of them nearly a century old – without being an 'old-timey' band. 'We don't treat this music with kid gloves or place it on a pedestal to preserve and adore', says Evan. 'We just play it as if these songs were written this morning, for today's generation.' The dramatically diverse age range among the Hot Sardines' fan base reflects their success at making the classics relevant to current audiences, and Vanity Fair applauds their 'unique repertoire, and a sound and style that are distinctly their own.'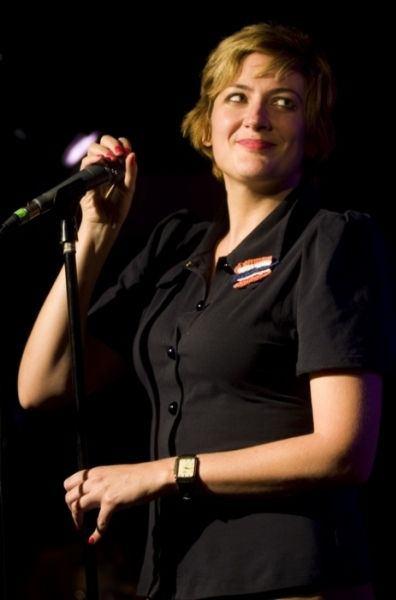 Elizabeth Bougerol, who grew up living in several countries including France, Canada, and the Ivory Coast, spent her pre-Sardine life as a writer. With numerous bylines and writing credits to her name – including penning the quirky guidebook New England's Favorite Seafood Shacks for the Countryman Press and co-founding the NYC-on-a-shoestring daily newsletter the skint – Miz Eliz never sang a note outside of her own bathroom shower, aside from the requisite high school musical. However, throughout her tenure as an editor at a travel website, she grew increasingly dissatisfied with her choice of career path and sought solace in nurturing her lifelong passion for music. She made the rounds on the jazz circuit in New York, approaching bands after shows and asking for the chance to sing with them, even just at rehearsals. 'It was depressing', she recalls, 'because everyone would immediately ask me where I'd sung before, and with whom, and even worse…what instrument I played, and when I had nothing to offer but passion and an untrained voice, I got politely laughed at and turned away.' But her fiery spirit and resourceful nature wouldn't be cowed. In fact, the constant rejection ultimately sent her straight to Ace Hardware, where she ordered a trusty Dubl-Handi washboard and drew upon her naturally percussive ear and inspiration from jug bands to become a 'legit musician'. She then both placed and answered ads on Craigslist, hoping to connect with others who shared her love of early jazz and blues and wouldn't scoff at her lack of experience.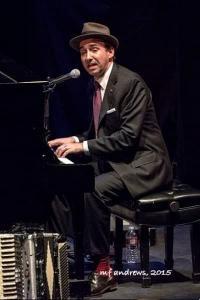 Evan, meanwhile, was speeding towards the same destiny in a different way. Born and raised in New York City, with stints living in the Berkshires of Massachusetts, Evan started playing piano by ear at the age of three. His love of performing began early and led him to major in theatre and musical theatre at the University of the Arts in Philadelphia. Returning to New York, he became a working actor earning his living doing theatre, commercials and production work on films. However, like Miz Eliz, Evan continued to cultivate his passion for traditional jazz, band leading and playing stride-jazz piano whenever he got the chance. Without his knowledge, his wife Jennifer placed an ad on Craigslist for him, seeking others looking to start a traditional jazz band. 'It was pretty hilarious, getting responses to an ad I never placed', says Evan, but so exciting to start discovering people who wanted to get together and jam.' Early on in the process, he met a jazz guitarist and they got together every once in a while to play just for the fun of it. But this wasn't enough for Evan, who recalls that 'it was enjoyable, but not life-changing…so I just kept placing ads inviting people to join us and answering other ads to see who else was out there in the community.'
And then came the fateful day in 2007 when Evan and Elizabeth both answered the same Craigslist ad for an open jazz jam at an ad hoc rehearsal space in midtown Manhattan. 'When Bibs and I met,, says Miz Eliz, 'it was like an instant musical connection. We started trading stories of songs and singers we loved while growing up, naming our biggest influences and trying out tunes together…and it was like everyone else in the room just faded away while we geeked out.' Evan knew the match was made in heaven when Miz Eliz asked him if he knew any Fats Waller. 'I just started playing "Your Feet's Too Big" on the piano', he says, 'and Elizabeth just joined in like we'd been singing that duet together for decades, which was pretty magical because it looked like no one else around us even knew that song.' With both of them still working at their day jobs, and neither one dreaming of ever becoming a professional musician, they started getting together every couple of months to play music for their own enjoyment – until one day, on a lark, they decided to take their piano-washboard-vocal show to an open-mic night at Banjo Jim's in the East Village. And fate – which had already started moving the Sardine pieces into place on the chessboard – stepped in that day again by sending Evan and Miz Eliz a tap dancer. Edwin 'Fast Eddy' Francisco had stopped by Evan's house on an errand for a friend, and started tap dancing along while they were rehearsing – and just like that the 'percussion section' of tap-and-washboard was born.
Slowly the band began to take shape. Naming it was easy, recalls Miz Eliz. 'We knew we wanted the word "hot" in the name to reflect the type of jazz we played, and so we literally just paired different words with hot to find a name that was fun, unusual, and memorable.' Thanks to a tin of sardines in hot sauce Miz Eliz found in a local shop, the name simply fell into place. Over the first few years of the band's evolution, Miz Eliz recalls that 'it was like the universe started sending the perfect Sardine-style performers into our orbit, guys who were deeply trained, accomplished musicians from hallowed institutions like Julliard, Berklee and NYU Jazz, but who weren't afraid to – as we call it – get a little dirty and gritty with early American jazz.' In time, the core Sardine cast of characters expanded to include Jason Prover (trumpet), Alex Raderman (percussion), Nick Myers (clarinet/saxophone), and Evan Crane (upright bass/sousaphone). And in 2011, after playing mostly small venues and free gigs for friends, an unexpected break landed in their lap. 'We got an anonymous email enquiry in late June from someone seeking a jazz band that performs songs in French for a last-minute gig on the upcoming Bastille Day', says Evan, 'and we sent song samples and whatever rag-tag video clips we had on hand. Little did we know, the gig was Midsummer Night's Swing at Lincoln Center – and we got it.' After bringing the house down for the 6,000+ music lovers in the audience that day, the Sardines earned an instant fan base in New York City, and more high profile gigs started rolling in.
The marriage of early-American jazz with the mischievous twist of French culture is a reflection of Bibs' and Miz Elizabeth's musical partnership. Parisian-born Miz Eliz sings eloquently and effortlessly in both French and English – and sometimes in Mandarin, just for fun ('Chinatown, My Chinatown' – Jerome/ Schwartz, 1910) – and also writes original songs in both languages.
The Hot Sardines have sold out numerous shows and showcased their versatility by performing to eager audiences at venues as diverse as the ultra-swank Top of the Standard (Boom Boom Room), the Montreal Jazz Festival, the playfully-naughty underground speakeasy experience Shanghai Mermaid, Ronnie Scott's Jazz Club in London and Symphony Hall in Boston, where they performed in collaboration with the Boston Pops.
Both Evan and Elizabeth attribute the Sardines' accessible and arresting style to the modern cultural influences that enrich the core early-jazz foundation that originally brought them together. 'Nothing is sacred', says Evan. 'Everything from the Muppets to Bugs Bunny and from Harry Connick, Jr. to James Brown and Louis Prima has infiltrated our music and the way we interpret and perform songs.'