Hugh Masekela
Waltons World Masters Series
'A musician of phenomenal grace and power: intricate and fiery on flugelhorn and still blessed with a voice that can strip the leaves from the trees.'
– The Independent
---
Click on the tabs for information.
Performance
When Tuesday, 21 October 2014
Where National Concert Hall, Dublin, Main Auditorium
Presented by Waltons New School of Music
Hugh Masekela Group
Hugh Masekela • flugelhorn, vocals
Cameron John Ward • guitar
Randal Skippers • keyboards
Abednigo Sibongiseni Zulu • bass
Lee-Roy Sauls • drums
Francis Manneh Edward Fuster • percussion
Support by the Irish-Nigerian group Tig Linn
Solomon Ijigade • vocals, percussion
Zeenat Sarumi • vocals
Danny Groenland • flute, guitar, vocals
Graham Watson • guitar, vocals
Alex Borwick • trombone, banjo, vocals
Brian Tavey • bass
Hugh O'Byrne • drums
Brian Fleming & Robbie Harris • percussion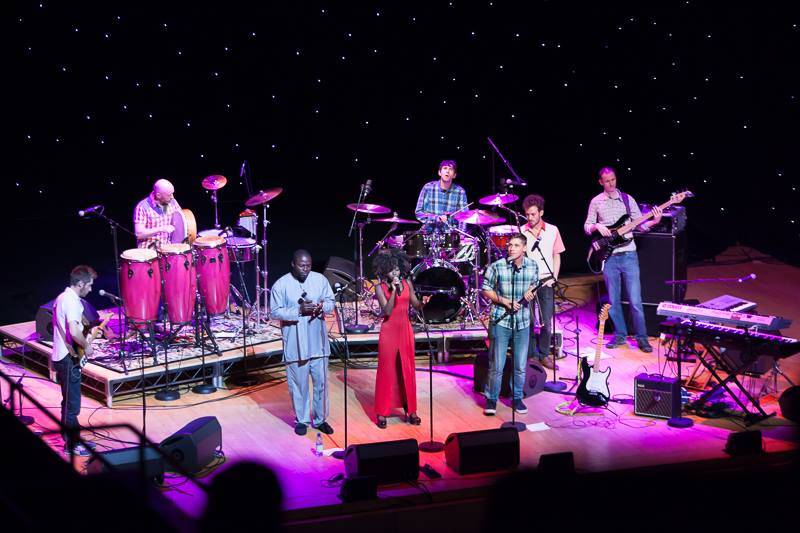 Tig Linn supporting Hugh Masekela
'Hope, vitality, defiance, beauty and currency. What else could you ask from any artist?'
– Rolling Stone
'Hugh Masekela creates an instant party, leading from vocals and flugelhorn like a South African Louis Armstrong.'
– The Guardian
'An electrifying evening of Afrobeat, jazz fusion and poetic laments.'
– Plain Dealer
'By the time we were entering the final segment of the evening and Masekela shouted "Stand up!", not a single person in the stalls remained seated.'
– The Arts Desk
'both joyous and reflective'
– Washington Post
'the performance of a lifetime'
– Insight News
'Unstoppable!'
– JazzTimes
Hugh Masekela
Hugh Masekela is a world-renowned musician, bandleader, composer, singer and defiant political voice. He was born in the town of Witbank, South Africa in 1939. At the age of 14, South African human rights activist Trevor Huddleston provided Masekela with a trumpet, and soon after the Huddleston Jazz Band was formed. Masekela began to hone his now signature Afro-Jazz sound in the late 1950s during a period of intense creative collaboration, most notably performing in the 1959 musical King Kong, written by Todd Matshikiza, and later as a member of the now legendary South African group, the Jazz Epistles (featuring the classic line up of Kippie Moeketsi, Abdullah Ibrahim and Jonas Gwangwa).
In 1960, at the age of 21, Masekela left South Africa to begin what would be 30 years in exile from the land of his birth. On arrival in New York he enrolled at the Manhattan School of Music. During this golden era of jazz music, the young Masekela immersed himself in the New York jazz scene where he listened to such greats as Miles Davis, John Coltrane, Thelonious Monk, Charlie Mingus and Max Roach. Under the tutelage of Dizzy Gillespie and Louis Armstrong, Hugh was encouraged to develop his own unique style, feeding off African rather than American influences. He released his debut album, Trumpet Africaine, in 1963.
In the late 1960s Hugh moved to Los Angeles, where he was befriended by David Crosby, Peter Fonda and Dennis Hopper. In 1967 Hugh performed at the Monterey Pop Festival alongside Janis Joplin, Otis Redding, Ravi Shankar, The Who and Jimi Hendrix. In 1968, his instrumental single 'Grazin' in the Grass' went to Number One on the American pop charts and was a worldwide hit, elevating Hugh onto the international stage.
His subsequent solo career has spanned five decades, during, and he has released over 40 albums (and been featured on countless more), working with such diverse artists as Harry Belafonte, Dizzy Gillespie, The Byrds, Fela Kuti, Marvin Gaye, Herb Alpert, Paul Simon, Stevie Wonder and the late Miriam Makeba.
In 1990 Masekela returned home, following the unbanning of the ANC and the release of Nelson Mandela – an event anticipated in his anti-apartheid anthem 'Bring Home Nelson Mandela' (1986), which had been a rallying cry around the world.
In June 2010 Masekela performed to a global audience at the Soccer World Cup opening ceremony and later that year created a critically acclaimed musical, Songs of Migration, with director James Ngcobo. In 2011 Masekela received a Lifetime Achievement award at the WOMEX World Music Expo in Copenhagen. The US Virgin Islands proclaimed 'Hugh Masekela Day' in March 2011, not long after Hugh joined U2 on stage during the Johannesburg leg of their 360 World Tour. Bono described meeting and playing with Hugh as one of the highlights of his career.
2012 was a particularly busy year, with Masekela touring Europe with Paul Simon on the Graceland 25th Anniversary Tour, then returning to South Africa to launch a new studio and record label, House of Masekela.
Sadly, Hugh Masekela died on 23 January 2018. We were privileged to bring him to Ireland.
---
Tig Linn
Tig Linn is a group of Irish and Nigerian musicians based in Dublin, writing original songs in Yoruba and English and drawing from both the Irish and Nigerian traditions. The group grew out of a larger, looser collective of African and Irish musicians in 2011 and has used its music in support of many causes. It was partly this interest in social justice that prompted Mavis Staples to choose them as support act for her World Masters performance at the National Concert Hall in 2012, but that wasn't the only reason. Tig Linn is simply a great live act! The group has played at Electric Picnic, Body & Soul, Castlepalooza, The Grand Social, Whelan's and The Village, among others.